We are almost at the end of this year of fires, storms, and a global pandemic, and I hope you are having some time with loved ones to rest and relax.
At 350.org our small team of staff and big grassroots movement has worked hard to keep up the momentum for climate action. I want to thank the thousands of supporters from across the country who have stepped up and taken action or donated to sustain our work this year.
2021 promises to be a historic year of global pressure for climate action, and we must harness this momentum to fight for our vision of a just and equitable future. But first, we want to look back at 2020, and share some of our top people-powered wins that your support has made possible.
If you can, please consider joining us as a Climate Defender for 2021 and help power even more wins like these. Every contribution, however big or small, makes a real difference for our future. Click to support climate action from as little as $5 a month – it only takes a minute.
#CutAllTies with the fossil fuel lobby
At our powerful action in February, bushfire survivors from the 350 Eurobodalla group joined with the Pacific Climate Warriors created a 'trail of destruction' between Parliament House and the Minerals Council's office using wreckage from the devastating fires. Our action and report got major national media coverage and gained political support from key crossbench MPs.
Our Fossil Fuel Watch investigations exposed the gas executives at the heart of Scott Morrison's handpicked Covid Commission. After building up political, grassroots and media pressure, the Prime Minister was forced to distance himself from the Covid Commission and replace the gas executives with representatives from sectors hardest hit by the pandemic. There is still more to do, and in 2021 our campaign to stop handouts to the gas industry will continue.
Thousands of you took action to pressure PwC and Rio Tinto leadership and staff to #CutAllTies with the Minerals Council for its history of wrecking all action on climate change. We spoke to hundreds of staff members through LinkedIn and in person, we sent 400 handwritten letters to the CEOs, we turned up at AGMs, and we held actions at their headquarters. Our pressure made sure the Minerals Council had to shift its public rhetoric in 2020, and couldn't get away with the pro-coal public campaigns it has tried in recent years.
Sustain our work to #CutAllTies with the fossil fuel lobby by making a small regular contribution in 2021 
Our Islands Our Home
The Our Islands Our Home campaign, led by the Torres Strait 8, has had a huge year. 28,000 people have signed the petition to the Australian Government in support of the Torres Strait 8's demands, and there has been national media coverage in NITV, the National Indigenous Times, Koori Mail, the Guardian, and the ABC.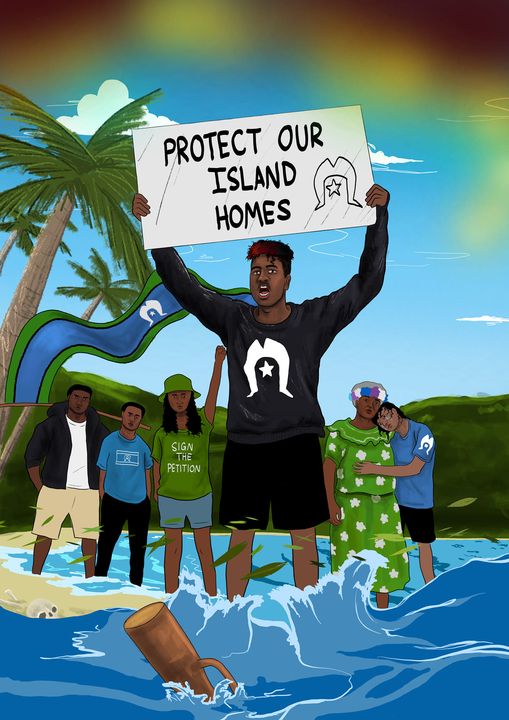 Incredible Zenadh Kes (Torres Strait) artists Dylan Mooney and George Gabey contributed artwork to the campaign, and hundreds of Indigenous people and allies took to social media as part of a powerful photo action.
Yessie and the Torres Strait 8 have spoken to more than 700 people through virtual town halls and webinars, and in December the group was named as Human Rights Heroes of 2020 by the Australian Human Rights Commission.
The claimants came together in September in Cairns for a powerful weekend of storytelling and planning for 2021. In January the next phase of the campaign will kick off, with powerful petition deliveries and community events targeting the Australian Government.
Movement wins from our local 350 groups
After a 6 year campaign, the University of Tasmania fossil free group had a huge win, with the Vice Chancellor Rufus Black finally announcing in October that the university will divest the $10 million it has in fossil fuels.
The 350 South Australia group launched an exciting new campaign calling for the Tour Down Under cycling event to drop its sponsorship deal with Santos. They've already had national news coverage for the campaign, held actions in Adelaide, and grown their local group in size and power
The 350 Borloo Perth group launched a huge investigation into the influence of the gas industry on WA politics, with the launch of the 'Captured State' report in November, covered with this feature story in The SMH. Local communities across WA are now taking this report and our demands to politicians ahead of the WA state election in March.
If there were ever a time to join us, it is now.
2021 is a critical year for changing the politics of climate change in Australia. Your contributions sustain our movement and power our impact, they keep us independent, and ensure we can campaign every single day of the year. You can support us through these challenging economic times and know that you are making an important difference to the climate crisis.
Thank you for your support
Lucy, for the whole 350 Australia team and movement.